A Taste of Autumn
Enjoy a 2 night stay with Full Irish Breakfast each morning, Traditional Afternoon Tea on and afternoon of your choice (served between 1.30pm – 4.30pm) along with a delightful 5 course dinner se
...read more
Three Night Autumn Special
Enjoy three nights' accommodation with Full Irish Breakfast each morning & one Evening Meal on an evening of your choice in our fine dining Douglas Hyde Restaurant. All guests enjoy complimentary
...read more
One Night B&B with Award-Winning Dinner
Enjoy an unforgettable nights accommodation in an authentic Irish castle that includes dinner in the 2AA Rosette Award-winning Douglas Hyde Restaurant and a famous full Irish Breakfast the following m
...read more
The Kilronan Castle Tasting Experience
Enjoy a fine dining experience with this amazing Gourmet Package which includes, 1 night Bed and Full Irish Breakfast with an 8 course Tasting Menu. Executive Head Chef Daniel Willimont and his team h
...read more
Spa Quick Escape 1 Night Package
Enjoy a delicious gourmet dinner in the 2AA Rosette Award-wining Douglas Hyde Restaurant, a full Irish Breakfast, either a 50-minute Body Nectar Nourishing Wraps with the choice of the following body
...read more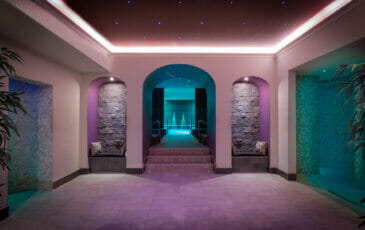 Blissful Retreat, Bed & Breakfast 1 Night Package
Wake up to a beautiful full Irish Breakfast and the choice of either a 50-minute Elemis Deep Tissue Massage or a 50-minute Elemis Facial followed by full enjoyment of the therapeutic waters of the lux
...read more
Enjoy Kilronan at the Best Available Rate
The once-in-a-lifetime experience of a stay in an authentic Irish castle plus a full Irish breakfast the following morning, all for the lowest rate you'll find on any website.
Booking Guarantees
 

Best rates on our website

 

Secure transactions

 

Privacy for your personal data
Official website
Best price online guarantee!
Corporate Bookings
Offers at Kilronan Castle ESTATE & GARDENS
Three Night Autumn Special
Enjoy three nights' accommodation with Full Irish Breakfast each morning & one Evening Meal on an evening of your choice in our fine dining Douglas Hyde Restaurant. All guests enjoy complimenta...
One Night B&B with Award-Winning Dinner
Enjoy an unforgettable nights accommodation in an authentic Irish castle that includes dinner in the 2AA Rosette Award-winning Douglas Hyde Restaurant and a famous full Irish Breakfast the followin...
The Kilronan Castle Tasting Experience
Enjoy a fine dining experience with this amazing Gourmet Package which includes, 1 night Bed and Full Irish Breakfast with an 8 course Tasting Menu. Executive Head Chef Daniel Willimont and his tea...
Blissful Retreat, Bed & Breakfast 1 Night Package
Wake up to a beautiful full Irish Breakfast and the choice of either a 50-minute Elemis Deep Tissue Massage or a 50-minute Elemis Facial followed by full enjoyment of the therapeutic waters of the ...